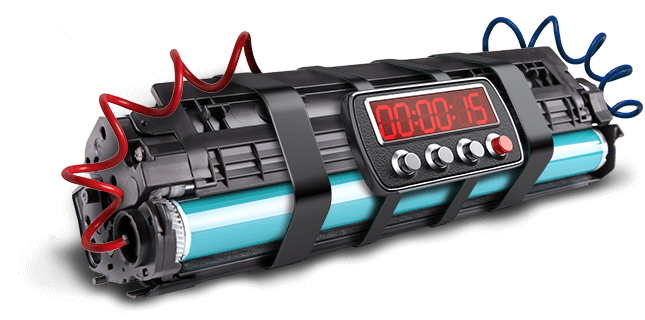 Is your compatible cartridge a ticking time bomb?
4 Reasons to Choose Clover Remanufactured Cartridges Over Clones
1. SURPRISE! THERE ARE HIDDEN COSTS TO BUYING CHEAPLY MANUFACTURED CLONE COMPATIBLE CARTRIDGES!
The low costs of new build clones are driven by the use of cheaper plastics and inferior quality in the manufacturing of the cartridges. This decreases reliability of the toner cartridges, causing more printer issues that increase your repair costs in the long run.
Read more about Clover's world-class engineering and remanufacturing process.
2. CLONES MIGHT BE CHEAP AT FIRST BUT HAVE AN OVERALL HIGHER COST OF OWNERSHIP!
In addition to the damage done by the inferior quality build, many clones do not live up to their stated yield claims.
A third-party test by Buyers Laboratory (BLI) proved that Clover's remanufactured print cartridges are as reliable as the OEM.
Watch the video.
3. CLONES PUT YOUR COMPANY AT RISK!
New build clone cartridges may infringe on OEM patents, putting you and your company at risk.
Learn about Clover's IP Guarantee
4. CLONES ARE NOT A GREEN SOLUTION!
The vast majority of new build clones can't be reliably remanufactured or reused and end up clogging landfills. Not to mention the negative impact on the environment from manufacturing new cartridges instead of reusing OEM cartridges.
Get the Facts on the Environmental Sustainability of Clover's Cartridges
Clover remanufactured cartridges are guaranteed to meet or exceed OEM performance. Don't sacrifice quality for cost. Get the cartridges that offer you both!
Become a Clover Dealer Today!
Learn How