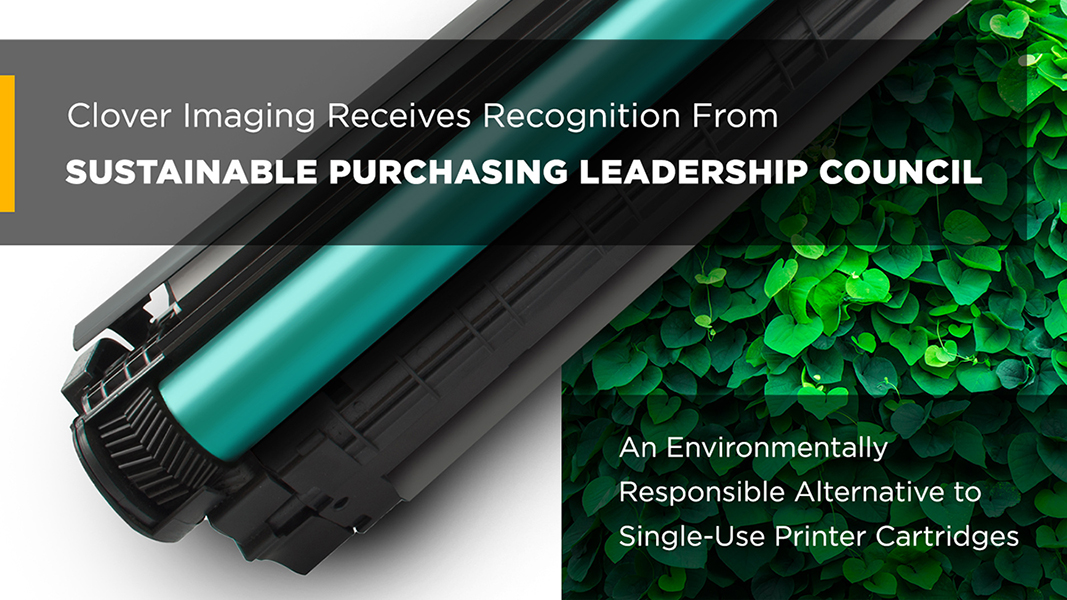 Case study on environmentally responsible alternatives to single-use printer cartridges garners coveted Outstanding Case Study recognition
Chicago, IL — Clover Imaging Group (Clover Imaging), a global leader in print and imaging solutions, has recently received recognition from the Sustainable Purchasing Leadership Council (SPLC) for their case study surrounding the sustainability of remanufactured printer cartridges. SPLC's annual awards recognize companies who take the lead in innovative procurement strategies and demonstrate a firm commitment to sustainability.
Clover Imaging's study outlined how the company's short- and long-term corporate sustainability goals are supported by strategies and actions that are built on the principles of a circular economy methodology to reduce environmental impact at every stage of the supply chain.
Using problem solving and accountability, Clover Imaging's innovative business practices have resulted in several targeted solutions that reach beyond the obvious environmental benefits of the product itself, including reducing packaging, recycling cartridges through collections programs, and offsetting paper usage through reforestation efforts.
Eric Martin, President of Clover Imaging Group, was delighted at the inclusion in the 2020 Leadership Awards lineup. "We are honored to be included as the recipient of an Outstanding Case Study Certificate for our continuing work in reducing environmental impact through sustainable partnerships, an emphasis on practices that support a circular economy, and a commitment to ongoing sustainability improvements."
He further notes that Clover Imaging's remanufactured cartridges use 44% fewer natural resources, have a 51% smaller impact to the environment, and consume 79% less total material than single-use printer cartridges.
Clover Imaging is committed to raising sustainability standards while providing its customers with not only the highest quality products, but innovative ways to increase and document their own sustainability efforts.
About Clover Imaging Group
Centered around sustainable innovation, Clover Imaging Group offers independent dealers, OEMs, and retailers a complete imaging and solutions platform. Clover's broad array of products and services includes award-winning remanufactured printer cartridges and parts, a comprehensive suite of managed print and technology services, and unparalleled marketing and sales support. Far from its early beginnings as an ink and toner remanufacturer, Clover has evolved into a global enterprise backed by a world-class engineering, manufacturing and distribution infrastructure. These expansive capabilities enable Clover to provide a level of partnership unsurpassed in the aftermarket imaging space. For more information on Clover, please visit www.cloverimaging.com.